NJStar Chinese WP 6.00
| Features | What's New | Download | Buy it Now! | Help & Support | Screenshots | Opentype Fonts |

---
Powerful language learning software or great learning experience?

Decide what's important to you,
then choose your desired edition!

Standard

Pro

Pro Simplified
or Traditional

Ultimate

All listed functions as shown in the trial version
Number of NJStar Chinese OpenType included

0

10

25

52

Price

$99

$159

$199

$299

Order Online using Visa, MasterCard, AmericanExpress or Paypal

Download a free trial version for Windows
Download a free trial version for Mac OSX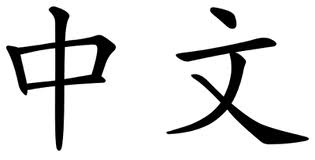 Learning another language is a wonderful opportunity to broaden one's view and expose to another country's community, literature and culture. It is a magnificent adventure which will be proven to be beneficial of a life time, including your career and self-cultivation. However, completing such quest is not a matter of days. It normally takes years to master another language. That is why you need a long term companion to travel along with you. NJStar provides a powerful software which offers much handy functionality to enhance your Chinese learning experience. It provides assistance as you achieving your goal.
Your perfect learning guide:
Radical look up
We know English but want to learn Chinese, but the two belong to different language families. The most distinctive differences are character structure. With the knowledge of neither pronunciation nor the meaning, Chinese character may seem impossible to learn, not even with proper translation software. What is the right way to start?
We address this issue accordingly to our user's demand. Unlike English language, which consists of 26 alphabetical characters, Chinese character consists of side components. Radical Look up allows you to look up the meaning base on the component of each character. You may explore the meaning of the word as easy as several clicks and learn the language with a brand new start.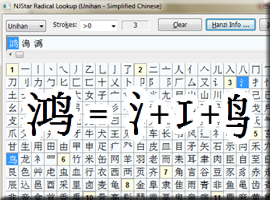 Back to top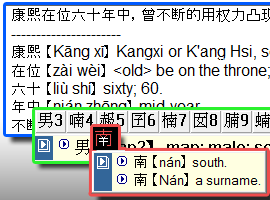 Word annotation and Dictionaries
With a sizable vocabulary, being able to comprehend the meaning of any form of literature smoothly would be much desirable. NJStar WP provides multiple ways to assist you when it comes to comprehend the Chinese language by removing the obstacles on your way.
That is why we offer the essentials: Bilingual Dictionary, which translate English to Chinese and vice versa; Popup Dictionary, which shows the meaning of the highlighted words; and Input bar Dictionary, which guarantee your input gives the correct meaning. Word annotation extracts all the key words of the whole paragraph and has their meaning display in a separate file along with the original document, saving you the time to record them manually.
A database of over 70,000 Chinese Characters

Chinese language has a profound history and yet new characters are being invented as we speak. Old encoding system fails to accomodate the latests. Ever had trouble typing out the character in your mind? Worry not. NJStar Communicator is the one stop solution to all your character input problem.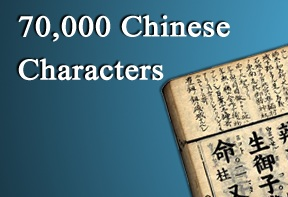 Back to top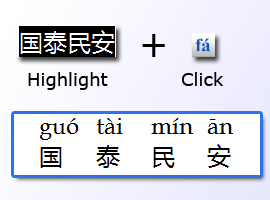 Hanzi to Pinyin
Need help with pronunciation but don't want to look it up from the dictionary? No problem. The Hanzi to Pinyin functionality cover the highlighted character to pinyin with tones. Fluent reading becomes achievable!
Good for input:
Multiple Input Methods

Being able to understand is nice, being able to deliver is better. The art of language will be far less appealing without being able to interact with others. Are you ready to write your first Chinese article?
Our package has multiple build-in Pinyin based input methods such as Standard Pinyin, Zhuyin, double Pinyin, online Pinyin etc. It also has multiple words built-in specially for different sets of Chinese characters such as in Simplified Chinese, Taiwan Traditional Chinese and Hong Kong Traditional Chinese . It is the perfect solution when it comes to Chinese document processing.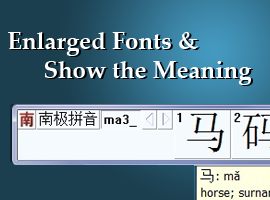 Back to top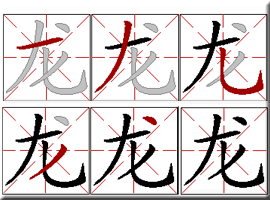 Calligraphy Stroking
In addition, our WP also contains printable strokes by stroke calligraphy which allows you to go beyond the learning experience on computer. Therefore, NJStar is the one stop solution to all your Chinese input demand.
Some degree of similarity but more advanced:
Integrated with MS office interface
We are at our best performance with the environment which we are most familiar with. Instead of throwing you into the pool to make you learn a completely different software, why not adapt to the most accepted word processing standard in the world?
You may feel very welcomed the first sight you glance on the NJStar WP as it launches. We had all the functionality described above integrated with subversion of Microsoft word processer. It ensures the user would be comfortable with the interface and focus on the language learning experience. A package of language learning software along with a powerful document processing software. This is an offer you could not miss.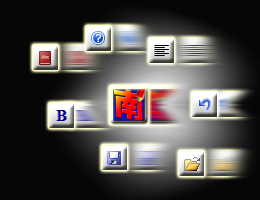 Back to top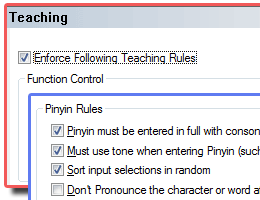 Good for teaching:
Customizable Teaching rules
You may have built a career on teaching Chinese and want to enhance the teaching quality even further for excellence. NJStar WP offers the opportunity for you to take a step further to gain the competitive edge in your career.
Our WP will help you to deliver the world class multi-dimensional learning experience. It allows customization such as enable/disable dictionary annotation or spells check, enforce full consonant and vowel input and more constraint to make sure your student know exactly what they are doing. It is the perfect teach assistance.