Master Your Chinese with ChineseMaster
ChineseMaster is a helpful tool for learning Chinese. It has been designed to help students to learn a large number of Chinese characters as quickly as possible. All characters come with mandarin pronunciation recorded by native speakers. It helps you practice Chinese by speaking aloud.
Main Functions:
The basic pronunciations of all Pinyin Initials and Finals;
Pinyin Pronunciation and English translation of 3500 commonly used simplified Chinese characters and related phrases;
Animation of stroke orders of 305 simplified Chinese characters;
34 lessons with 1000 sentences of daily communications, comes with reading, Pinyin and English translations;
A Chinese-English dictionary;
Convert Chinese characters, words, sentences into Pinyin;
Lot of reading comprehension, including 300 Tang poems, idiom stories, jokes, tongue twisters;
Works well on English Windows, Chinese and Japanese Windows, No Chinese supporting system needed.
On-line update.
User Interface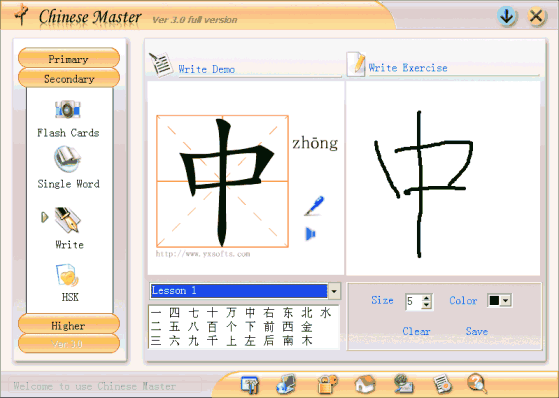 Free Download
Demo version of Chinese Master can be downloaded directly from here
Registration
By Registering ChineseMaster with NJStar, you will get
A full version and a registration code emailed to you;
Free Unlimited Email support;
Discounts towards purchasing of other NJStar Software;
You'll be supporting good software and providing more incentives for the developer to make ChineseMaster an even better program.
About Developer
ChineseMaster is developed and copyrighted by Mr. Zenglin Wan (Postal address: Jiangyin Yuxin Soft Company, NO.51 Changjiang Road, Jiangyin City, Jiangsu Province, China). NJStar Software provides user the sales support and registration. If you have any query about ChineseMaster, pleasecontact us.