NJStar Chinese Pen is a Chinese handwriting recognition software that enables Chinese input using mouse or tablet. It can recognize and input both simplified Chinese characters and Traditional Chinese characters with excellent accuracy. With it's build-in voice function, NJStar Chinese Pen will pronounce the character in mandarin as soon as the hardwriting recognition is done. It can also read a high-lighted paragraph of Chinese text in any application.
Main Functions
Program Interface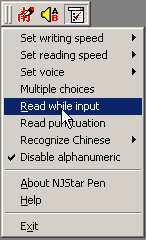 Only 3 buttons, easy to use.
Handwriting Recognition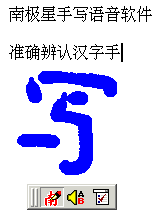 Full screen handwriting recognition for fast and accurate input.
Mandarin Text-To-Speech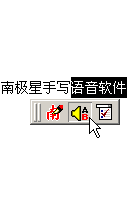 NJStar Chinese Pen reads a written word or a highlighted paragraph in male/female voice.
NJStar Chinese Pen is a valuable tool for users of all language levels. This program allows user to input Chinese text by drawing Chinese character on computer screen. For beginner of Chinese language, it can be used to practice the hardwriting of Chinese characters. For users with proficient Chinese, this program provides an alternative way of inputing Chinese characters.

 Full screen handwriting input: Now you can input Chinese by writing it - no need to memorize input strings in various Chinese input coding scheme. With your mouse or an electronic pen/tablet, you can write Chinese just like writing on paper. NJStar Chinese Pen has a fast and accurate recognition rate, which allows the program to output the character immediately as soon as you finish writing it. And you can set the recognition speed to suit your handwriting speed. You can even set the program to manually start the recognition process, which can be very convenient for a beginner. You can also configure NJStar Chinese Pen to display a list of similar characters for you to choose the right one.
To active the handwriting mode, click on this button To start writing, hold your mouse left button and move the mouse to draw the strokes. You need to release the left mouse button when you finishing the drawing of one stroke, and then hold again to draw another stroke until all strokes are done.

 Chinese Text to Mandarin Speech: NJStar Chinese Pen not only allows you to WRITE Chinese but it also READS Chinese in mandarin pronounciation. The program can read the recognized character aloud while you use handwriting input metod. It can also read back a highlighted Chinese sentence/paragraph.

 Options: There are various options for you to configure and personalize the program to suit your needs. These options settings can be set easily from the options menu.
System Requirements:
Windows 95/98/ME/NT/2000/XP/Vista;     (Mac/Unix version not available)
2MB hard disk space; 
Download Demo
We provide a fully functional, free 30 day trial version for pre-purchase evaluation.


 Please click here to go to the demo download page.
NOTE:
The registered version will keep your NJPen settings. NJStar Chinese Pen is recommended to be used with NJStar Chinese Word Processor
Frequently Asked Questions:
Does NJPen require certain hardware in order to work?

No. All you need is your mouse in order to draw Chinese on your computer screen...

Once NJPen is installed and running, click on the pen-input icon (red South character with a pen to the top-right corner) and you can write away!

When setting writing speed, what does "manual" do?

When you set to "manual" speed, the recognition process will not start until you press the "Pause" key on your keyboard. This gives you unlimited time to write one character slowly.

 

What are "Set Reading Speed, Multiple Choices, Read While Input, Disable Alphanumeric"? Would you explain how they work?

Set Reading Speed - the reading speed can be adjusted from slow to fast;

Multiple Choices - the program gives you up to 10 possible characters for you to choose;

Read While Input - the program read back to you the character you've just written;

Disable Alphanumeric - the program will recognize only Chinese, no English letters and numbers are recognized (this will increase Chinese character recognition ratio)

What is the icon (looks like a speaker) with the letters A and B for?

When you highlight a block of Chinese text, you can click on this speaker which will read aloud the Chinese text back to you through computer speaker!