NJStar Chinese Calendar is combination of Chinese-Lunar and Western Solar Calendar software. It has a powerful Electronic Planner which automatically reminds and even performs scheduled jobs for you at predefined intervals. Also included is a World Clock which allows you to look up local time and compare the timezone difference, check out the telephone dialing codes and flight distance between any cities around the world.
Main Functions
Calendar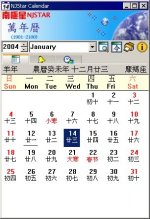 Display, print and convert Chinese Lunar to Western calendar dates and Horoscopes.
 
Electronic Planner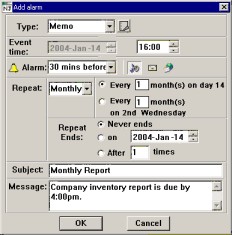 Sheduling functions are both powerful and easy to use.
World Clock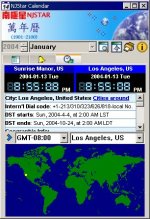 Clickable map to search for local time difference, country telephone code, even flight distance information.
You are not likely to have come across such an useful little program before! Sorting out your daily To-Do plans has never been easier with the help of NJStar Chinese Calendar.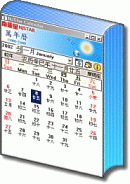 Download Free Demo Now!

 Calendar: As a "calendar", this program displays, prints and converts Chinese-Lunar/Western calendar dates for the years from 1600 to 2100. It also provides Chinese and western Horoscopes.
NEW:   天干地支 "Heavenly Stems and Earthly Branches" Information (TianGan DiZhi) information is added into the latest release 2.0.

 Electronic Planner: You can treat this software as your electronic secretary, because it does all the chores for you - on time and on schedule - ranging from reminding you to "pick up kids from school" to automaticaly emailing the finished report to the boss on next Monday.
Depending on the way you utilize the "remind-me" alarm settings, you can be cleverly reminded of various important tasks minutes/hours/days/weeks ahead, giving you ample preparation time to be on top of everything. For reoccurring schedule - such as birthday, salary and/or mortgage payment day - the reminder setting can repeat itself well into the future.
Sounds powerful? But Wait, There's More!

 World Clock: We have also included a World Clock with a clickable word-map, so that information on international local time difference, country telephone area code and even flight distance is literally just 2 clicks away!
System Requirements:
Windows 95/98/ME/NT/2000/XP/Vista;     (Mac/Unix version not available)
2MB hard disk space; 
Download Demo
We provide a fully functional, free 30 day trial version for pre-purchase evaluation.


 Please click here to go to the demo download page.
NOTE:
The registered version will keep your demo version alarm/schedule settings. All non-Chinese windows require Chinese support such as NJStar Communicator